Reminders and Updates
News for current clients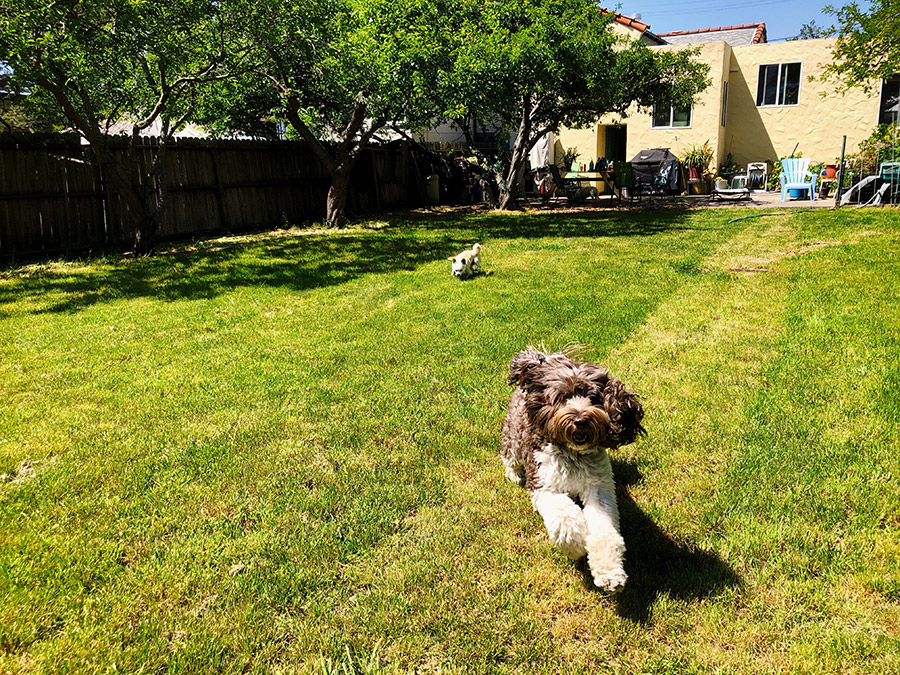 Summer 2023:
 We are currently accepting reservations for summer boarding. 
Details how no touch drop-off/pick-up works:
Schedule daycare date and arrival time with Kendra in advance of drop-off.
Text/call Kendra when you arrive at SSS, do NOT come to the front door. I will greet you at the side yard, on the left of the house.

Client can leave their leash on pegs on fence just inside the short gate my side yard.

Especially in the morning before 8:30,  I will not talk with clients in side yard, to keep the noise down for my neighbors. Chatting at the front of the house is fine.

I will use my own leashes and harness with dogs in my care. The leashes and harnesses.
Cancellation Policy
Updated for Covid
 Modified cancellation policy taking effect immediately: Clients will be charged 50% for all boarding cancellations with less than 7 days notice, 25% for 7-14 days notice, no fee for cancellations with more than 14 days notice. With all the uncertainty that lies ahead, I expect that this policy will continue through the summer. 
In the case of true emergencies (to be determined by SSS), credit toward future boarding may be issued when possible.
Health and Safety out on the trails
 Canine Influenza: Canine influenza seem to be here to stay and Sit Stay Sleep is requiring the Bivalent Canine Influenza Vaccine (CIV)  for all dogs coming to SSS. If you do not want to vaccinate your dog, please contact Kendra directly. For more information check out  https://vetmed-hospitals.sites.medinfo.ufl.edu/files/2017/05/Info-for-Pet-Owners-on-Canine-Influenza-1.pdf  
Rain puddles and standing water for most dogs are great fun, unfortunately they are a petri-dish of bacteria and parasites. We do our best to keep the pack from drinking from these gross water sources, but it inevitably happens. The diseases we are most concerned with are giaridia and Lepto, which both present with diarrhea and/or vomiting and require a trip to the vet. Do not ignore these symptoms if they persist for more than 12 hours. Lepto can do serious long term damage to your dogs kidney and liver if not caught and treated early. 
Foxtails are an issue in our parks and on trails all summer and fall. We do our best to limit our packs exposure to Foxtails, but they are on all trails and in the parks. If you are concerned about this risk, you might consider getting an Outfox head protector for your dog. It will protect a dog's ears, eyes, nose and mouth from foxtails. Of course we check the dogs for stickers and foxtails after outings, but it is impossible to find them all. If your dog gets a foxtail, on an outing with us, that requires a vets intervention you are responsible for the vet cost.  www.outfoxfordogs.com  
Ticks are tenacious little creatures and they are everywhere in our hills, grasses and open spaces. Again, we do our best to check for ticks after outings, but inevitably they grab onto pups and people alike and are very good at hiding in the warm crevices. To protect your dog against ticks, and to prevent the potential for contracting tick-borne diseases; including Lyme disease, we advise you to regularly use tick preventives on your dog. There are many prescription and over the counter options available. We encourage you to speak to your vet to help you find a medication that is right for your dog.
Sit Stay Sleep crew
Martín Tapia-Urdaneta Martín has been working with us since the fall of 2021. His empathy and genuine care for all the dogs is immense. He had a steep learning curve coming to us with little experence with dogs, but he has learned so much during his time with us and has become an valuable part of our team. He is observant and gentle with the dogs and in turn they love him. 
Nick Ciapponi
Cecilia Camlin
Amitis Rossoukh While her primary job went full-time and she is not available to help on a regular basis, she does step up and do overnight stays when I need to be away. Lots of dog experence. 
Laura James Is a friend turned dog helper. She has lots of experence with small dogs and enjoys them all. 
George Berven continues to be a valuable help around here doing weekend walks, hanging out with the dogs when I'm out, helping with onsite projects and generally providing physical and emotional support to my busy life. He also provides hours of couch snuggles for the pack
General reminders for your dog's upcoming stay
Fill-out an itinerary sheet online for your trip.
Make sure vaccines and flea treatment are all current.
You are responsible for drop-off and pick-ups of your dog (within a 30-minute window) as scheduled. Please let me know ASAP if you will be early or delayed.
If you are traveling internationally or to a remote or hard to reach location, you will need to provide a supplemental emergency plan. We can talk about this.
Please include 2-3 days worth of extra food. In case you are delayed returning as well as our guests tend to get lots of exercise and sometimes need a little extra food.
Contacting Kendra
For making or changing a reservation, confirming details, etc., email is best info@sitstaysleep.com. 
For "day of" changes, checking-in or emergencies, call or text: 510-847-1832. 
Hours: 
Being a home-based business means someone is here most of the time. That being said, we do have preffered hours that you should arrive with your dog, so that we may schedule our activities, errands, appointments with regularity. 
Drop-offs: 8 – 9:30 am, ideally 8:30-9:15 
Mid-day pick-up/drop-offs: 12 -1 pm
Pick-ups: 4 – 6 pm.
Early drop-offs available with approval from Kendra. Late pick-ups until 9:30 pm – based on availability.
All drop-off and pick-up times need to be scheduled with Kendra. 
Upcoming 2023 Closure Dates:
Fall vacation: we will be closed Oct. 16- 31, 2023. Open for dogs Wednesday Nov. 1.